Hot Air Circulation Oven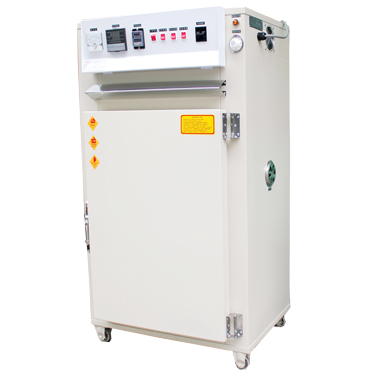 Suitable for:
Pre-heating and drying in Opto-electronics and electronics /Electrical-mechanical /Electro-plating /Plastics /Hardware /Screen printing /Food / Biotechnology and pharmaceutical /Chemical industry/ Drying/ Curing/ Painting/ Experimental/ Materials applications.
Related specifications:
Single Door Oven (200℃)
Double Door Trolley Oven (200℃)
Vacuum Oven (200℃)
Infra-Red Conveyor Dryer (200℃ / 500℃)
Hot Air Circulation Oven / Non-Oxidation Oven (300℃)
High-Temperature Heat-Treatment Furnace (1200℃)
High-Temperature Oven (500℃)
Oven Accessory (Tray Type)

Features:
The circulation system, heaters and controllers are all located on the top or side of the machine. Equipped with a full range of constant temperature, over-temperature, explosion-proofing, timer and automatic shut-down devices. Easy to operate and maintain.
Nichrome wire and heat-resistant ceramic brackets used in the electric heater have a thermal efficiency of 99.5%. Direct heating is quick, efficient and energy-saving.
A horizontal hot-air circulation and heating system ensures that even temperature can be quickly achieved throughout the chamber.
The internal and external chambers are insulated by high-grade rock wool to reduce heat loss.
A variety of safety handles are available for the machine hatch. Different types of packing are available as well. (Fiber, cotton, silicone, Teflon etc.)

Requirements:
Can be built to different specifications, dimensions, controls, materials, models and design.
Can also be tailored for use with other equipment.
The name of object to be dried as well as its attributes, output, shape, weight, duration and temperature.
Flammability or acidity/alkalinity.

Construction:
Materials:Stainless steel, powder coated steel plate (internal/external steel plate, internal SUS and external steel plate, internal/mid/external SUS304), internal columns, dual ventilation, number of doors.
Trolley and rail-type, tray spacer, observation port, special explosion-proofing device, timer (30 min - 999 hours), PID SCR micro-computer temperature controller, electric heater (IR.SUS), other custom controller specifications and structure.

Specifications