ELECTRONICS/
OPTOELECTROINCS/
SOLAR ENERGY EQUIPMENT

Single-axis Measuring Machine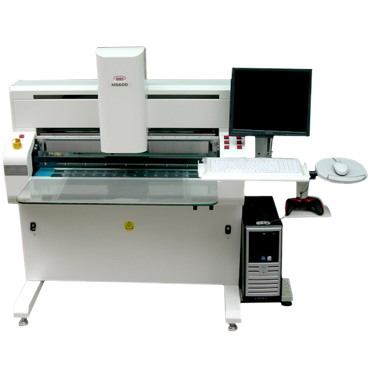 Model:YC-MX-600、YC-MX800

Precise Measuring Machine

Apply to all kinds of electronic precise film, PCB inter layers and HDI films. Shrink and expansion could be measured through simple operation.



Adopt latest vision measuring software

  Features:
Measuring the distance between circle to circle/circle with cross/point to point/line to line and so on.



The measuring accuracy could be calibrated via glass scale which meet NIST standard.



Auto/Manual focus selectable
Simultaneous image could be captured as screenshot as backup data.
Adopt Japanese made 1/3" CCD camera
5 magnifications selectable to correspond various circuits
Adopt Japanese made precise slide guide with ball screw
European precise linear scale which resolution up to 0.1um
Suction device and pressing device


Glass table equipped with suction device and three stage pressing device that could be applied to all kinds of material.
 


Light source:Horizontal laser light and laser pointer that could positioning the placed workpiece.
 


Suitable for the measurement of PCB, Multi-layers, HDI film, FPC, industrial film, diazo film, silk screen and so on.
  

Specifications